For many estate planning seems like a distant problem to take care of once we've gotten older. What people don't realize is how crucial these documents become to many at a younger age than you might expect. Build your estate plan now to protect yourself, your loved ones, and your belongings through unexpected events. These four documents are often the basis for an established estate plan.
Will
A will is the most basic protection you can have in your estate plan. This is a means by which you can transfer your assets after you have passed away. When a person passes away, their belongings will need to pass through probate (a court overview) to determine where these possessions belong. With a will, your loved ones can avoid this process, saving time, money, and conflict. In addition to this, a will is essential for anyone with children, as it is the means by which a guardian is named should anything happen to the parents.
Living Trust
For many people, a will is not enough for transferring assets after
their death. They will need a living trust, which includes a will with it. Like a will, a trust will allow you to avoid probate, privately distributing your assets as you see fit. This is especially important for those who own real estate or are worth a significant amount of money. Those who have certain assets they want to be handled in a specific way should invest in a trust to ensure your wishes are fulfilled without court influences.
Power of Attorney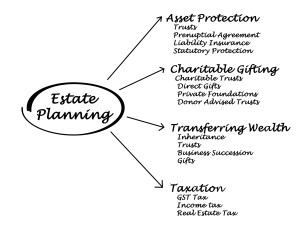 Although this may not be one of the first things thought of when estate planning, a power of attorney is a critical document. This gives someone the legal right to act in your place when you are no longer able to do so. There is a power of attorney for both your medical and financial needs. The person you select as your power of attorney should be someone you trust, who understands your needs and desires as far as these issues go. Anyone 18 and older should have a medical and financial power of attorney to make important decisions should you not be able to make them.
Living Will
A living will, also known as a health care directive allows you to make known decisions about your health should you no longer be able to make your wishes known. This is crucial if you have desires regarding life prolonging treatment, vegetative state care, or other similar situations. Ensure you have in writing what you want if you are incapable of making the decision later.
Don't wait to start your estate plan. You should have at least these essential documents in place to protect yourself, those you love, and your assets. Plan for the unexpected, giving yourself the peace of mind you deserve.
Get A Free Consultation
(801) 676-6447
During your free consultation we will review your needs, and give you our honest opinion about how to best solve your problem.
Recent Articles
How to Avoid 3 Scams Following the Massive Equifax Data Breach Evan Farr Wayne w

NEW YORK (CNNMoney) — If you're not worried about the Equifax hack, you